Who is Mary Kom || Mary Kom Biography
An ordinary girl from the Kom tribe of Manipur, India who fearlessly pursued her dreams without bothering about the bars and proved the world that nothing is bigger than the desire to win, by being the first Indian female boxer to earn an Olympic medal for her nation. This six times World Amateur Boxing Champion had numerous face-offs while chasing her dreams, but the best part was that she never quit fighting against the odds which also included her family who never wanted her to become a boxer. Mary's successful career proved that "champions are not born, they are made".
Chungneijang Mery Kom Hmangte was born on 1st March 1983 as the eldest daughter of a tenant farmer who worked in 'Jhum' fields to meet both ends. She spent her childhood helping parents with farm and household chores along with her studies. Mary inherited sportsmanship from her father who used to practice wrestling in his youth. She urged to become a boxer after watching her fellow statesman Dingko Singh who bagged gold medal for India at the Asian Games.
The path was not easy for her as the community as well as her parents objected the decision to pursue boxing considering the sport only for boys. Mary started training in Imphal and used to travel distances to learn boxing under the tutelage of Coach K. Kosana Meitei. At the age of 15, she left her hometown for further studies in Imphal and continued her training there. In 2000, Mary won the state boxing championship, and it was then her parents knew about her training. Initially, they protested but watching her prolific performance and innate talent, they agreed. Mary dominated the boxing ring for several years, but after her marriage, she took a break from the sport being much engrossed in family and raising her two children. Soon it started airing that she might not come back to the ring but Mary knew that her chase for an Olympic medal would not end up like that.
Also read: Who was Neerja Bhanot? Who saved 360 people by giving her own life
She made a dynamic comeback, winning a silver medal at the Asian Women's Boxing Championship in 2010 and went on to add many more feathers in her cap proving skeptics that there is a vast difference between stepping back and quitting. Resuming to her training schedules after having kids was not at all easy, but the strong craving to earn an Olympic medal for the country, again led her towards the boxing ring, but this time harder than earlier. At the AIBA Women's World Boxing Championship of 2012, Mary punched hard not only to mute the critics but also to qualify for the Olympics as the women's boxing was introduced that year.
Defeating Karolina Michalczuk in the first round by 19-14, Mary stepped ahead for the quarter-finals where she dominated Maroua Rahali of Tunisia by 15-6, reaching the finals. She not only earned India's first Olympic medal (bronze) in female boxing but also added her name to the Indian sport's history. Mary's determination to win and moxie attitude makes her the perfect role model for the young generation.
Childhood & Early Life
She was born in Kangathei, Manipur, India Mangte Tonpa Kom and Mangte Akham Kom who were poor farm laborers. She was named Mangte Chungneijang at birth which means "prosperous" in her local dialect. However, she would use the name Mary in her professional career for ease of pronunciation.
She was the eldest of four siblings and had to work hard from a young age to fend for her family. She not only went to school to study, but also took care of her younger siblings and worked in the fields with her parents to help them.
She first went to Loktak Christian Model High School where she studied up to class VI standard before moving on to St. Xavier Catholic School. However, she quit studies before completing schooling.
Even as a student she displayed a keen interest in athletics and used to participate in sports like football. Funnily though, she never took part in boxing as a student.
In 1998, boxer Dingko Singh won a Gold at the Asian Games and made his motherland proud. This incident inspired her to take up boxing. However, the very task of taking up this sport became a challenge for her as her parents felt boxing was too masculine for a young girl.
Undaunted by the opposition, Mary traveled to Imphal and requested the coach, M. Narjit Singh at Manipur State Boxing to train her. She was passionate about the sport and was a quick learner; she would often practice till late in the night even after the others had left.
Career
Her first career win came in 2000 when she won the Best Boxer Award at the First State Level Invitation at the women's boxing championship in Manipur. After that she proceeded to win the gold in the Seventh East India Women's Boxing Championship held in West Bengal.
A prolific sportswoman who demonstrated a relentless passion for the game, she won a total of five National Championships from 2000 to 2005.
Between 2001 and 2006, she won the AIBA world boxing championship thrice in 2002, 2005 and 2006, and came second in 2001.
In 2008, she participated at the Asian Women's Boxing Championship in India where she won a silver medal. The same year she boxed at the AIBA Women's World Boxing Championship in China where she earned the Gold medal—her fourth successive gold medal at the championship.
The coming years were also very productive for the gritty young lady. She went to Vietnam from where she returned with a gold medal at the 2009 Asian Indoor Games.
In Kazakhstan Mary won the gold medal at the Asian Women's Boxing Championship in 2010. Then she proceeded to Barbados to register a career milestone—her fifth consecutive gold at the AIBA Women's World Boxing Championship.
A petite woman, she competed in the 51 kg class in the 2010 Asian Games and won a bronze medal. Again at the Asian Women's Boxing Championship in Mongolia in 2012 she participated in the same weight category and won the gold.
In 2012, women's boxing featured as an Olympic sport in the Summer Olympics in London for the first time. Mary did succeed in securing a place at the events and won a bronze medal.
In 2014 Asian Games, held in Incheon, South Korea, she won a Gold Medal in Flyweight category.
Awards & Achievements
She is best known for being a five time World Amateur Boxing Champion, a feat that definitely makes her one of the best ever women boxers world has ever produced.
Mary Kom was decorated with the Padma Shri, India's fourth highest civilian honour in 2010 for her contributions to sports.
She was honored with the Padma Bhushan—the third highest civilian award in India—in 2013 for her wonderful achievements in the field of sports.
She won a Gold Medal in Flyweight category in 2014 Incheon Asian Games.
Personal Life & Legacy
She met K Onler Kom in 2001 when she was at New Delhi on her way to National Games in Punjab. The young man was highly impressed by Mary's grit and ambitions. The couple dated for four years before tying the knot in 2005. They have been blessed with three sons.
Her much awaited autobiography, 'Unbreakable' which chronicles all her life's struggles and how she rose above them, was released by Harper Collins in 2013.
Trivia
The famous Indian actor Priyanka Chopra plays this sports woman in a Bollywood movie based on her life.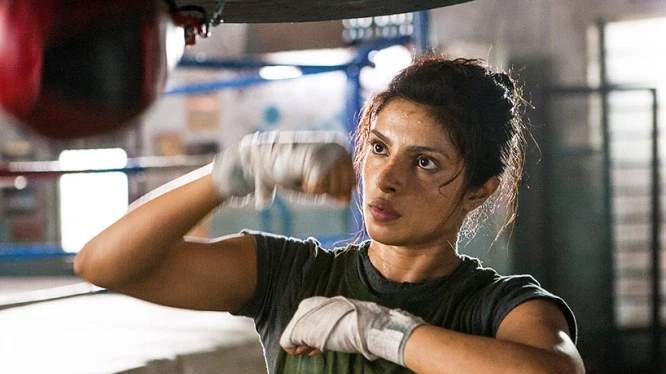 Top 10 Facts You Did Not Know About Mary Kom
Mary Kom is a high school dropout though she later on finished her schooling through alternative ways and even completed her graduation.
Her biggest inspiration was Dingko Singh who won the gold medal in boxing in 1998 Asian Games.
As a young girl she faced vehement opposition from her parents regarding her choice of a career as a boxer.
She is the only Indian female boxer to qualify for, and win a medal in the Olympics.
Mary is the only female boxer to win a medal in six consecutive world championships.
She is the first Indian woman boxer to win a gold medal in the Asian Games.
She, along with Sanjay and Harshit Jain, bore the Queen's Baton in the opening ceremony run in the stadium for the 2010 Commonwealth Games of Delhi.
Mary Kom is the first amateur athlete to win the Padma Bhushan.
She is the first amateur to surpass several professional athletes in India in earnings, endorsements and awards.
She is a supporter of animal rights, and has been associated with animal rights organization, PETA India.