History of Medaram Jatara
The Koya Tribe of Telangana began the celebrations of the auspicious and much-awaited biennial "Medaram Jathara" on the 16th of February 2022 with the arrival of Saralamma on the 'Medaram Gaddhe' (Platform).
Medaram Jatara is India's second-largest fair, after the Kumbh Mela, and is held for four days by Telangana's second-largest tribal community, the Koya tribe. Medaram Jathara, Asia's largest tribal fair, is held in honour of the Goddesses Sammakka and Saralamma.
It is observed once every two years on the full moon day in the month of 'Magha' (February). Saralamma was Sammakka's daughter. Her idol is installed in a temple in Kannepalli, a small village near Medaram, according to the rituals.
Smt. Renuka Singh Saruta, Minister of State for Tribal Affairs, will participate in and attend various programmes during the fair.
She stated that the preservation and promotion of cultural heritage is central to the Ministry of Tribal Affairs' mission, and Medaram Jathara is being celebrated with zeal as part of the Azadi Ka Amrit Mahotsav.
In the early hours of the day, Pujaris (Priests) performed sacred pujas . The traditional Koya priests (Kaka Vaddes) bring, on the first day, the insignia (Aderalu / Sacred pots and Bandaru / Mix of turmeric and saffron powders) of the goddess Saralamma from Kannepally and place on her Gadde (platform) in Medaram, amidst their traditional musical beats (Doli / cylindrical drum, Akkum / brass blowing instrument, Thootha Kommu / bison-horn blowing instrument, cymbals, etc.) and dances with huge processions/prostrations of the pilgrims seeking boons for children, etc.
Similarly, by the evening of the same day, Penka Vaddes transports Sammakka's husband Pagididda Raju's insignia – flag, Aderalu, and Bandaru – from Punugondla village, Kothaguda Mandal, Mahbubabad district to Medaram.
Similarly, the deities of Govindaraju, Sammakka's brother-in-law, and Nagulamma, Sammakka's sister, are brought to Medaram by Dubbagatta Vaddes from the village Kondayi, Eturunagaram Mandal, Jayashankar Bhupalpally district.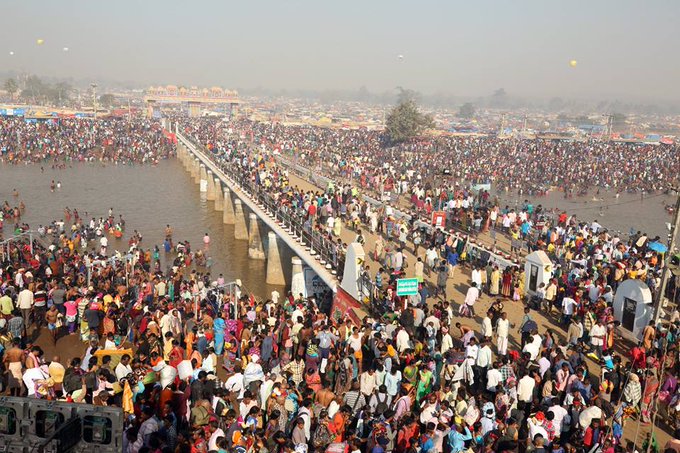 Several pilgrims from various villages and Scheduled Tribes congregate there, and crores of pilgrims visit the Mulugu District to fully enjoy the festival.
The Jathara festival is currently celebrated and organised biennially by the Koyas in collaboration with the Tribal Welfare Department of the Government of Telangana.
Kannepalli villages performed 'Aarti' and organised grand farewells to Saralamma. Following that, the idol of Saralamma is brought to Medaram Gaddhe via 'Jampanna Vaagu' (a small canal named after Jampanna).
Saralamma is worshipped after arriving on the 'Gaddhe' with special pujas and other rituals. As part of the Medaram Jathara, over 3 million devotees visit Saralamma and perform special pujas.
The Ministry of Tribal Affairs is actively supporting and covering the festival's events, as well as ensuring the preservation and promotion of Telangana's Scheduled Tribes.
This festival aims to raise awareness of tribal cultures, festivals, and heritage, as well as to maintain a harmonious bond between visitors and Telangana's tribal communities.
Sammakka Saralamma Jatara, also known as Medaram Jatara,
Is a tribal Hindu goddess-honoring festival celebrated in the Indian state of Telangana. This Jatara is famous for hosting one of the world's largest gatherings of people. The Jatara starts in Medaram, Tadvai mandal, Jayashankar Bhupalpally district.
It commemorates the fight of a mother and daughter, Sammakka and Saralamma, against an unjust law with the reigning rulers.
Medaram Jatara :There are numerous legends surrounding Sammakka's miraculous abilities. According to tribal legend, around 6-7 centuries ago, in the 13th century, some tribal leaders who went hunting discovered a new born girl (Sammakka) emitting enormous light while playing among tigers.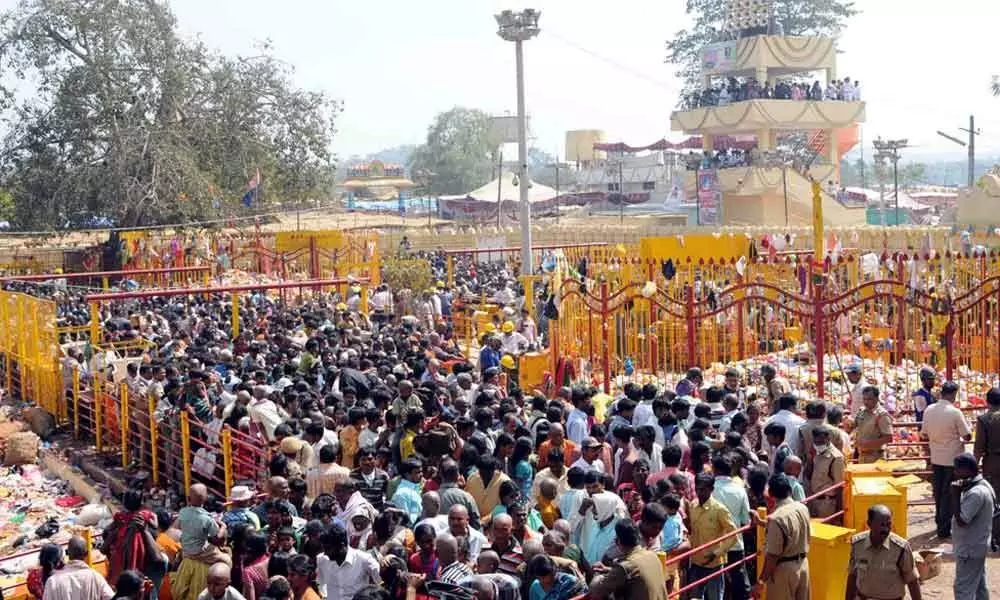 She was taken to their settlement, and the tribe's chief adopted and raised her as a chief. She later became the saviour of the region's tribals. — —- (who ruled the country of Telugus from Warangal City between 1000 AD and 1380 AD).
Sarakka, Nagulamma, and Jampanna (Medaram Jatara)
Are her two daughters and one son, respectively. Jampanna died in this attack and fell bleeding into a vaagu (stream), and the entire sampangi vaagu turned red as a result, and it was later named JAMPANNA VAAGU near where the current mela is taking place.
Sammakka Sarakka Jatara is a tribal festival held approximately 100 kilometres from Warangal. It is the time for the world's largest tribal congregation, held every two years (biennially), with approximately ten million people converging on the location over a four-day period.
Many tribal devotees from various Indian states (Andhra Pradesh, Madhya Pradesh, Chhattisgarh, Orissa, Maharashtra, Karnataka, and parts of Jharkhand) travel to the festival site.