Jatayu Earth's Centre, Kollam – South Kerala
Tourism in South Kerala has been limited to coastal areas like Varkala, Kovalam and Poovar. However, this trend is changing slowly. Jatayu Nature Park holds the distinction of having the world's largest bird sculpture, which is of Jatayu. The sculpture measures 200 feet long, 150 feet wide, 70 feet in height and occupies 15,000 square feet of floor area. It was sculpted by Rajiv Anchal, has built the world's largest bird sculpture in Chadayamangalam (Kollam district) in Kerala.
This giant sculpture of the mythological bird named Jatayu, has been built on a hill named Jadayupara and has been opened to visitors from the year 2018. The tourist centre where the Jatayu statue has been built is called the Jatayu Earth's Centre or the Jatayu Nature Park. This article will act as a detailed guide for you to plan a trip and visit Jatayu Earth's Centre.
First unique feature is that this entire statue
Its nearby surroundings is privately funded. That is,  not even one paisa of our tax money or the government money has been used. The cost of the entire area which includes a cable car, a statue, a temple, and an adventure park is only 100 crore rupees. Think how properly the money is utilized they were able to build so much at such a low cost.
Another special feature of the statue is its design and its uniqueness. The statue also changes the colour as the sun rises or sets. This World's Largest Bird Sculpture statue appears more reddish at sunset. Thousands of feet above the land, there is a temple which is still under construction.  It is believed that there are footprints of Lord Rama. There is an old castle which isn't actually a castle. That is an area constructed as an area of paintball.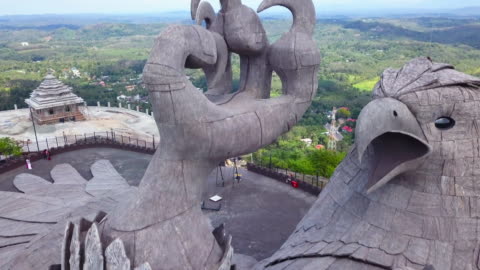 Engage in adventurous games
All adventure junkies, this is your perfect weekend getaway! Engage in adventurous games in the backdrop of breath taking views of
nature
. Whether it be Burma bridges, commando nets, log walk, vertical ladder, chimney climbing, or side joola, choose your pick and let the adrenaline rush through the body.